大華繼顯推出24小時電子直接付款授權eDDA服務,您只需綁定銀行帳戶一次,以後便可於UTRADE HK流動應用程式直接過數,無需再提交存款證明!資金最快可即時存入您的證券戶口*!
*視乎授權銀行處理時間而定
好處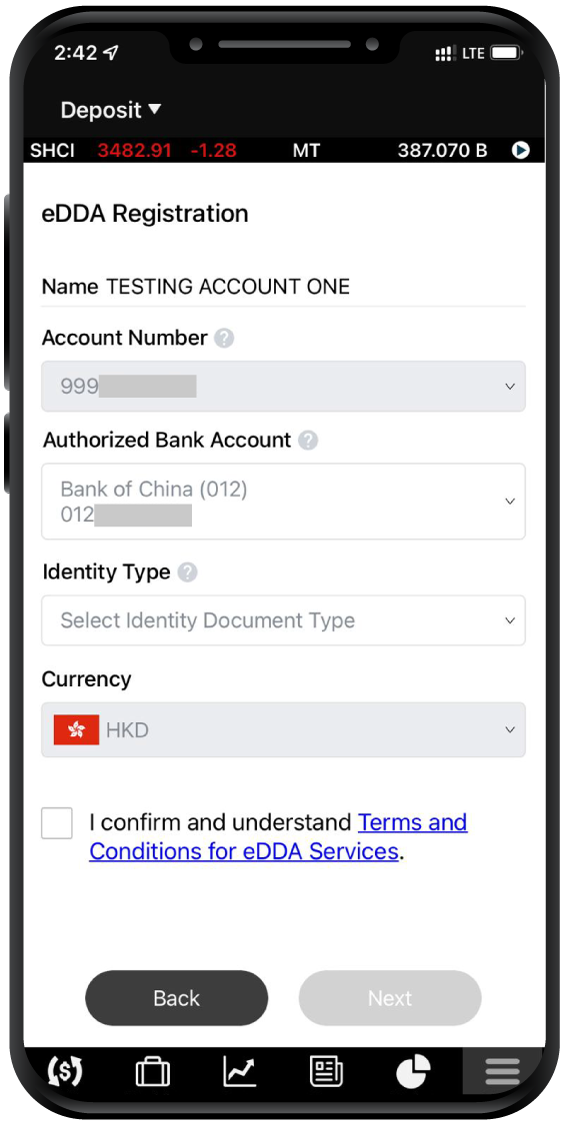 24小時存款
無需提交存款證明
於UTRADE HK流動應用程式直接登記及過數,無需登入銀行APP
支援17間銀行
$0手續費
條款及細則:
活動推廣期 (下稱推廣期) 為2022年9月1日至2022年12月31日。
本優惠適用於新舊客戶。
客戶成功登記eDDA並於推廣期內成功透過eDDA存款即可獲贈最高港幣50元佣金回贈。
透過UTRADE HK流動應用程式或經紀進行股票買賣(場外產品除外),可獲共最多港幣50元佣金回贈。佣金回贈將於交易日起後90天內自動轉賬至客戶的交易戶口。佣金不得兌換為現金。
港幣50元佣金回贈有效期為第一次透過eDDA存款日起計之3個日曆月。
此佣金回贈優惠不能與迎新優惠同時使用。
每個帳戶只能享有此優惠一次。
按此下載用戶指南

立即與您的客戶經理聯絡
或致電客戶服務熱線:(852) 2136 1818
詳情請參閱 utrade.com.hk
大华继显推出24小时电子直接付款授权eDDA服务,您只需绑定银行帐户一次,以后便可于UTRADE HK流动应用程式直接过数,无需再提交存款证明!资金最快可即时存入您的证券户口*!
*视乎授权银行处理时间而定
好处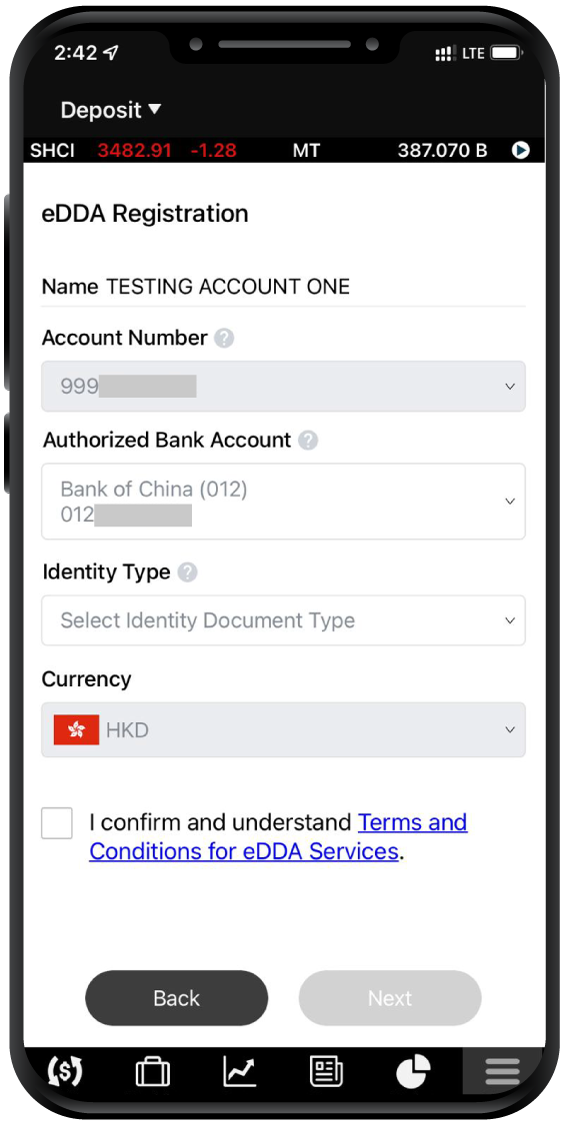 24小时存款
无需提交存款证明
于UTRADE HK流动应用程式直接登记及过数,无需登入银行APP
支援17间银行
$0手续费
条款及细则:
活动推广期 (下称推广期) 为2022年9月1日至2022年12月31日。
本优惠适用于新旧客户。
客户成功登记eDDA并于推广期内成功透过eDDA存款即可获赠最高港币50元佣金回赠。
透过UTRADE HK流动应用程式或经纪进行股票买卖(场外产品除外),可获共最多港币50元佣金回赠。佣金回赠将于交易日起后90天内自动转账至客户的交易户口。佣金不得兑换为现金。
港币50元佣金回赠有效期为第一次透过eDDA存款日起计之3个日历月。
此佣金回赠优惠不能与迎新优惠同时使用。
每个帐户只能享有此优惠一次。
按此下载用户指南

立即与您的客户经理联络
或致电客户服务热线:(852) 2136 1818
详情请参阅 utrade.com.hk
UOB Kay Hian has launched the 24-hour eDDA (Electronic Direct Debit Authorization) service. You are only required to authorize your bank account once, and make your deposit directly via the UTRDAE HK mobile app without the need to provide a proof of deposit. Funds can be deposited into your Equities account in real-time*!
*Subject to the processing time of the authorized bank.
Offer
From 1 Sep 2022 to 31 Dec 2022, clients who have successfully registered the eDDA service and make at least 1 deposit will receive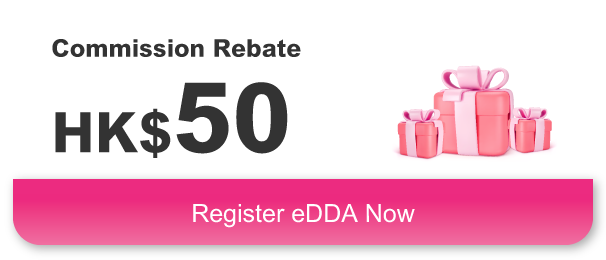 Advantages of eDDA Service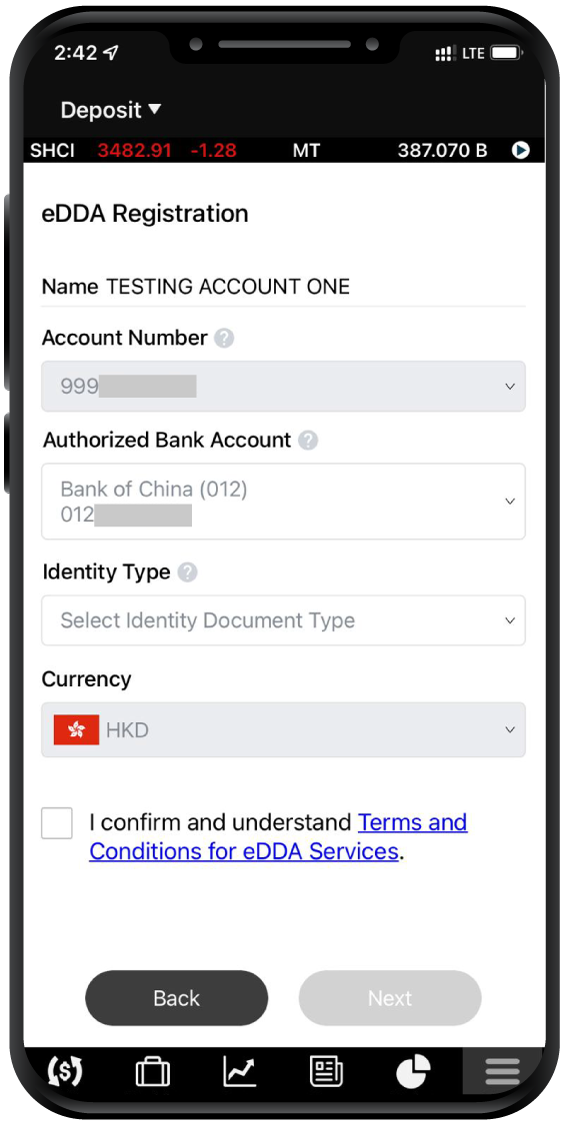 24 Hour Deposit Service
Proof of Deposit Not Required
Register and Deposit Directly via the UTRDAE HK mobile app - without the need to login to your banking app
Supported by 17 Banks
HK$0 Handling Fee
How to Register?
Terms & Conditions:
This promotion will be held from 15 March 2022 to 31 Aug 2022, both dates inclusive (Promotion Period).
This promotion is applicable to both new and existing clients.
Clients who have registered for the eDDA service and made a deposit via eDDA during the promotion period will receive a commission rebate of up to HK$50.
Trades placed via UTRDAE HK mobile app or Account Executives (except OTC products) will receive a commission rebate of up to HK$50. The commission rebate will be automatically credited to the client's trading account within 90 days from the trading date.
The commission rebate cannot be converted to or exchanged for cash and will be valid for 3 calendar months from the first deposit via eDDA.
This promotion cannot be used in conjunction with the Welcome Offers.
Each UTRADE account is only entitled to enjoy the commission rebate once.
Click here to download the User Guide

Click here to download the APK Installation Guide (Simp. Chinese only)

/Demo

Contact your Account Manager now
Or call our Client Services Hotline: (852) 2136 1818
For more details, please visit utrade.com.hk